Today we catch up with Fabian Dannerbauer. He is a hydraulic engineer, ski lover, and a father of two, based in Linz, Austria.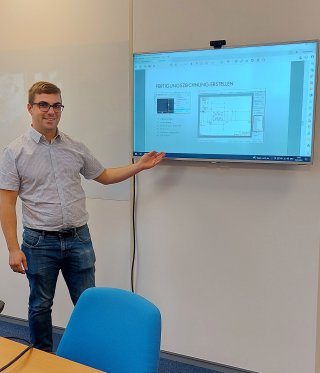 Fabian has his own company Daf Hydraulik which specializes in customized hydraulic services such as 3D hydraulic manifold design, production and sales of hydraulic components. Fabian also provides customized HydroSym and HydroMan on-site training enabling clients to utilize the software in most optimized manner and reach their success goals faster.

Fabian's training ethos:
Collaboration
Collaboration stands central in his training course, helping his clients set up systems to utilize the software as teams in a way that it helps the teams to create "one point of truth" where correct information resides about hydraulic parts. This helps clients save time when working together on projects.

Education
Fabian's HydroMan Basics and Avance On-site trainings are hands on and customized to the specific situation of the client. In fact, real work projects are used and teams get a chance to learn the features in a very relevant to them environment. Teams get to know in detail every function and how to best use it in their work.

PARO Library customized for the client
During the course it is also important to create a visualization of symbols in library so that team can work effectively together. Explanation of how to best use the library is given and once again customized to your situation. The main take away is to be able to create customized parts that are stored for using again and again - creating "one point of truth" saving a lot of time design time.

Complete overview of HydroSym, HydroMan and HydroCAM
For companies that also produce Hydraulic Manifolds, the complete software solution includes HydroCAM. With HydroCAM it is possible to create a program for CNC machine from your HydroMan schematic.

Shortcuts and Tips and Tricks
After Fabian's course the team will have a great arsenal of shortcuts as well as tips and tricks to use in their projects with HydroSym and HydroMan.

Learn more about Damian's courses on his website: Daf Hydraulik