Flawless hydraulic design. Guaranteed.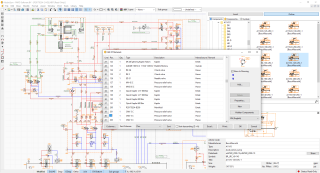 Why choose Paro?
Flawless Design, 100% Guaranteed: we believe our solutions are best in class, so we guarantee our customers a flawless hydraulic system design.
Deep-rooted in Hydraulics: we have been living and breathing hydraulics since 1974.
Market Innovator: we constantly strive to be ahead of the crowd, to not be afraid of change and embrace new technologies to leverage our solutions to the benefit of our customers.
We serve over 500 clients. Worldwide.
100% Satisfied Customer Policy.
Guaranteed.

1263
daily users trust our software
41.434
components in our library
41
countries globally connected to our network
Products
Our products are based on solid experience in and in-depth knowledge of hydraulics, dating back to 1974.
We develop our products with you, our customer, in mind, constantly asking ourselves how our solutions will help you design your hydraulic system more efficiently and more effectively. Our never-ending drive for innovation and our customer feedback are ways for us to continuously improve our products for your benefit.
Our products comprise the following software solutions:
Thank you again for your help and to the PARO team for creating my favorite piece of software.
I thoroughly enjoy HydroSym. It is the best schematic software I have ever used. It is user Friendly, easy to make new symbols and the support from you guys is just excellent.
Paro provides the best support you could possibly get. You always get fast answers and they always seem enthusiastic to help you.
All our products come with unlimited service.
About Paro
Paro Software is an experienced and innovative hydraulics software development company. Paro offers three very fast, complete and easy-to-use software packages – fully developed in-house:

HydroSym, to draw hydraulic schematics

HydroMan, to professionally design hydraulic 3D manifolds

HydroCAM, for the production of hydraulic manifolds

More about Paro
Contact us

Send us a message through the contact form or send us an e-mail at info@paro.nl, and we'll get back to you.

Or if you prefer calling, you can reach us at +31 251 233 785.