About Dorninger Hytronics
Dorninger Hytronics is a medium-sized hydraulic company specializing in the production of customized control blocks, hydraulic power units and complete mechatronic solutions. With 180 employees, they produce 20,000 control blocks and around 3,000 units per year. Michael Schröcker, Manager of Engineering tells us about the process of starting to use HydroSym and HydroMan and incorporating the software across the whole team.
The path from 2D to HydroSym
We drew our hydraulic schematics to 2D with standardized symbols until 2014. Basically, this was enough.
With increasing digitization, we sought to give these schematics more "intelligence". For questions like, "How to guarantee that the right symbol is used, how to simplify or automate piping design, how can I save time in downstream design processes?" we had to find an answer.
Since we have been a customer and close partner of PARO for almost 30 years, after all, we were one of the first customers of HydroMan, and Marc and Frank were our first contacts. The first look at HydroSym was very impressive: simple, clear and fast. After an extensive evaluation phase of all former system manufacturers, HydroSym was our favorite.
Starting to work with HydroSym
Introduction initially, the program was tailored more for HydroMan users whose work is very different from the classic 2D CAD users. We came to PARO with several ToDo lists full of change and improvement requests and were welcomed with open arms. At that time, PARO invested a lot of time in the implementation of the points and within a very short time, HydroSym was so perfect that switching from 2D CAD to HydroSym's intelligent circuit diagram creation was very easy. We have planned and introduced the implementation in three phases.
Company wide roll-out of HydroSym and HydroMan
Phase 1:
Phase 1 was the creation and adaptation of the symbol and component library. This was a lot of work, no question, within a few months we had a very good position to start Phase 2.
Phase 2:
The first rollout was initiated in Phase 2 and introduced as standard circuit design software for the first two engineering teams HydroSym. We quickly realized that the younger the users are, the faster the changeover, and then provided PARO with a ToDo list again to make it easier for relaunched colleagues to make the transition. Now we have been using HydroSym with about 20 users for 3 years and are starting our last phase in the Autumn, the complete introduction into all engineering teams, after that about 40 HydroSym users will be at Dorninger Hytronics.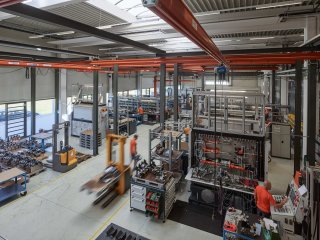 Ways of Working
We distinguish 3 application fields:
1. Production of hydraulic systems:
We manufacture hydraulic systems for many customers, where the hydraulic scheme is finished by the customer. Since these usually do not correspond to the level of detail of our schemes, they are recreated by our engineers in HYDROSYM. This is to detail the plans, but also to prepare for our downstream control block design. The big advantage is that you can work with components 100% from the beginning. You process the customer parts list part by part and immediately have the finished components in the schematic and at the same time check whether the symbol also fits the article. The simple "color scheme" of customer schemes is therefore great fun and goes very quickly.
2. Development of hydraulic systems:
For the majority of our customers, we develop complete hydraulic systems. Here, HydroSym is used as an engineering tool. Mostly mixed with symbols and components. During the development process, the symbols are defined and successively replaced with components. A great feature here is that you can see which components use the drawn symbol. So you have a unique overview of its possibilities and can very easily, for example. switch between valve manufacturers. We even use this function in purchasing to find alternative manufacturers in the extensive PARO library.
3. Control block consturction
In preparation for the control block design in HydroMan, the blocks in HydroSym are provided with all relevant information, such as position of valves, grouping of connections, etc. This saves us a lot of time in preparation for HydroMan.
Benefits
HydroSym is fast and easy to use
HydroSym is certainly one of the easiest-to-use programs in the CAD sector. Both the drawing itself and the handling of the library is very good. It is also worth noting the speed of the program itself, it uses low computational resources, as well as the creation. Symbols and components are inserted very quickly, connecting lines drawn quickly and the lines grouped in no time.
Great overview from start to finish
As a user, you keep a very good overview from start to finish. This is probably due to the fact that HydroSym simply provides just the features you need for schematic generation and no unnecessary functions.
Support
A great plus is the support. The PARO team always has a competent contact person who takes problems seriously and has a solution quickly.

Continuous Innovation
PARO and HydroSym are very innovative. There are always updates with new solutions and features that make working even more perfect.
Great price
As a buyer you should not normally say something, but the price-performance ratio is unbeatable. You get a great product at a manageable price.
Disadvantage
If you work with the customer on a common wiring diagram (mutual exchange), this is only possible if he also uses HydroSym. Some customers still require DXF / DWG formats for collaborative work. Unfortunately we can not use HydroSym here.
Conclusion
HydroSym is an enrichment in our working life. It is incredibly supportive when the result is not only perfect but also makes the work itself enjoyable and fun.