This year marks 11th time Paro Software has exhibited at the Hannover Messe and once again it was a highly energizing week for us seeing our customers from around the world and giving non stop software demo's to potential customers and hearing their enthusiasm. This year even more then ever we felt a real urgency from the visitors to implement software and tools that will help them innovate and take their work to the next level.
The Launch of HydroCAM - the latest innovative software from PARO
We presented HydroCAM, a new software that has really been developed with and for our customers. HydroCAM marks the final stage of hydraulic manifold manufacturing process by converting HydroMan manifold design file into an automatic program for the CNC machine, thus completely digitizing hydraulic design and production of hydraulic manifolds.
What was clear from walking around, visiting other stands and participating in workshops is that the tipping point has been reached when it comes to putting innovative concepts into practical applications. Weaving technology into our machines and processes makes innovation accessible to companies large and small and at a sustainable pace.
NOW - Real Applications of Industry 4.0 are Everywhere
We first started talking about Industry 4.0 in 2011, at that time it seemed like a noble concept though somewhat fantastical at shop floor level. This year walking around it was clear that IoT is making it possible for companies to incorporate technology into their workflow creating new products and service offerings with just small tweaks and minimal investment. The Internet of Things is here and we see how the cloud has made digitization of processes and things accessible to any company. Something as simple as a QR code on a machine can enable a company to offer a host of new services from after-care, to maintenance.
Edge intelligence is another concept that we have seen come alive with real world applications. Make any machine or a component "smart" by imbedding a sensor that will feed the information enabling performance improvement and predictive maintenance all aimed at making industries run smoother and faster.
Next Up - Open Industry 4.0
The next step in the evolution of Industry 4.0 is making it an "Open" industry. This is a subject dear to us and something we at Paro Software fully believe in and support. Open Industry means that technology should remain open to be integrated and connected with other technologies. It is a move away from closed off proprietary rigid systems to software that can be customized to fit unique needs of companies, it can connect with other tools that a company uses, and can be scaled as needed. We believe this kind of inter-operability is a key to driving future growth and innovation. Digital twin – is another concept that we have seen in action. Entek in Turkey (users of HydroSym and HydroMan) connect other tools to create digital twins what can be scanned and checked on the spot to trouble shoot and maintain.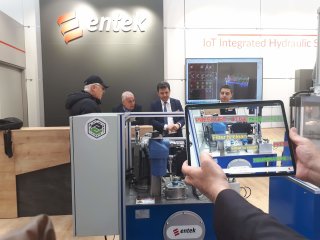 Future - 5G Industrial Applications, AI, 3D Printing
One of the great things about Hannover Fair is that it never lacks in future forward inspiration. We are always challenged to think ahead and question how a new technological development can be applied in our work. Another one of our HydroSym users, Aidro, is utilizing 3D printing to create a new generation hydraulic manifolds. The light weight and new possible shapes creating possibilities for new applications. 3D printing of course is now a hot topic looked at by all sectors be it medical, building and more. Will our workshops in the future all contain a 3D printer that will print on demand anything we need? Perhaps not in the next few years, but we must start working with new technologies to learn what is the best way to apply them.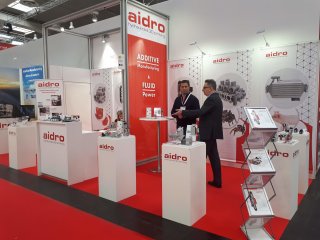 Amazon Web Services, Microsoft, Oracle, IBM, Dell, Huawei, CISCO and more big tech names were all present with what seemed like fantastical far in the future possibilities from sophisticated robots driven by Artificial Intelligence. Ericsson gave us a glimpse how 5G wireless technology opens to us a new world of extended mobility, virtual reality and machine intelligence on the industrial floor. Too far away and farfetched? If we are to take one thing away from this year's Hannover Fair it is that future is coming to us faster then we can imagine. By keeping our customer at the center of what we do and innovating for them, we will recognize faster what new technology will help to get us there.